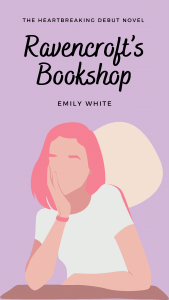 Ravencroft's Bookshop is the uncompromisingly honest debut novel from Emily White, about learning to live after the most unthinkable tragedy.
After graduating from university, twenty-one-year-old Aisling Wilson is getting to grips with navigating adulthood, when her long-term boyfriend unexpectedly takes his own life. Unable to come to terms with her loss, Aisling descends into an all-consuming depression. After six months of counselling, her therapist suggests that she find a part-time job, to give her a new sense of purpose in life.
To appease her therapist, Aisling takes a job as a sales assistant in an indie bookstore. She pictures vinyl records hung on the walls, a coffee bar at the back of the shop, and stacks of first-edition philosophy texts on the shelves. But Ravencroft Books is little more than a decrepit box of a building, run by Archie Ravencroft, a bespectacled man in his mid-twenties, and his dementia-riddled grandmother.
When Aisling is reluctantly roped into redesigning the store, she realises that comfort can be found in the most unexpected of places.